Are you looking for an artistic activity on the French Riviera?
Well this artistic activity could go viral for you…
| What about learning freehand sketching?
Drawing can be learned! Or in fact, it can be learned again because we all made drawings as a child…
Learning to draw is like practicing another language. It is through assiduous practice that one gradually masters the techniques of drawing and coloring. But a few notions of quick sketching allow to have fun without being in the search of perfectionism!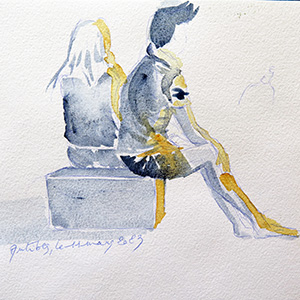 Nothing looks perfect! And this is ok. The irregular lines make the drawing full of character, sensitivity and personality!
| Learn to draw with spontaneity!
No headache: Outdoor sketching is a practice that promotes spontaneity and intuitive drawing!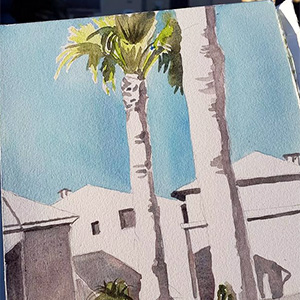 The choice is yours in between Urban sketches in the picturesque streets and ramparts of Antibes or nomadic sketches in the middle of nature!
Anyhow, drawing remains an escape and a great way to create travel diaries!
Illustrating a travel sketchbook allows you to combine business with pleasure: keep a memorable illustrated track of your travel adventures and learn drawing in a relaxed way! The act of drawing imprints the experience so intensely that, even years later, one can remember the journey in every detail!
On the French Riviera, the natural sites, the exceptional gardens, the coastal or mountain landscapes are magnificient. They encourage relaxation, letting go and giving free rein to creativity!
| Artistic workshops all year round!
The exceptional climate of the Cote d'Azur makes it possible to practice nearly all year round this healthy outdoors activity!
| A tailor-made artistic activity too…
Professional artist and Art teacher for more than 20 years, I am thrilled about sharing the freedom of quick sketching on the French Riviera!
I organise step-by-step workshops, for beginners, on the Cote d'Azur: from Cannes to Menton.
I can organize private workshops, upon request, in English or Italian.
| What if you joined an international community of freehand sketchers?
You could join the global community of urban sketchers!
Urban Sketchers is a community of amateurs or professionals all passionate about outdoor drawing, all over the world! If you dedicate yourself to drawing and want to be part of this community, you will meet people wherever you are! You will be able to draw together to share the love of sketching and drawing!