| 'Canopy, urban sketching' : sketching trees in the city
Initiation to urban sketching and drawing outdoors (on the French Riviera). Learn how to draw and welcome the presence of trees in the city! Each workshop is based on separate exercices : learn at your own pace, without commitment!
Discover the spontaneity of freehand sketching to quickly tell a scene in a corner of the city!
| Urban sketching in Antibes…
Introductory workshop to freehand urban sketching. Highlight with quick sketches urban trees and architecture!
| Trees in the city: our relationship with urban nature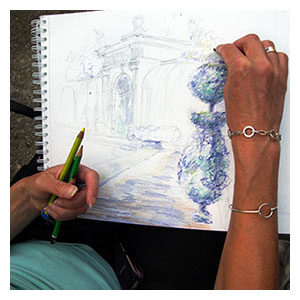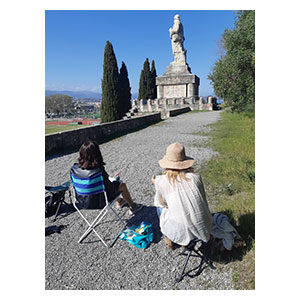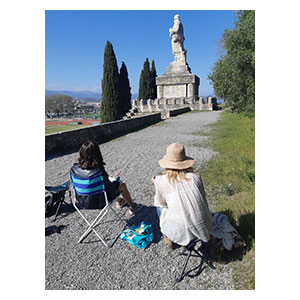 Trees are essential to our well-being in the city. They highlight architecture. Sometimes they mask urban elements that could represent a visual nuisance. And, by their mere presence, they contribute to the quality of our environment and soothe our mind…
Drawing their presence is a bit like paying a tribute to them and becoming aware of their importance in our urban lives.
Give yourself a little break in the city, to sharpen your eye, and create freely, giving free rein to your intuitiveness.
This is a way to enjoy a moment of peace, of freedom. Let go and develop confidence in your creative potential!
Learn to draw, interpret a scene with sensitivity… The learning step by step of techniques of quick sketching or observational drawing, will serve as a basis for the experimentation of the spontaneity of the moment!
Means of expression: pencils, colored pencils, ink, watercolor, writing, free expression. Each workshop is based on one or more step-by-step exercises.
Introduction to the basic techniques of drawing and sketching on location,
Creative approach.
This is a workshop accessible to all to learn how to compose, describe, interpret a scene and tell a story with sensitivity!
| Sketch Trees and buildings on every street corner
Drawing the built elements addresses questions of perspective and puts into practice realistic observational drawing versus the more sensitive interpretation of plants.
This practice also aims to reconnect with nature in the city, to identify seasonal trees that mark seasons… Seasons are revealed by rapid changes in climate and the metamorphosis of vegetation is sometimes spectacular!
In cities, trees witness the change of seasons.  They transform urban space.
The exercise will aim to mark the atmospheres while the writing will be a complement to express our impressions, feelings or emotions. Through this practice you will learn sketching methods for the realization of your travel sketchbooks.
Excerpt from Jean Giono, "L'écorce et l'arbre " in La Chasse au bonheur, 1988:
"What I love about cities is the trees they contain. […] For those who live in cities all year round, there is no reason for dream and excitement superior to that provided by the sight of a beautiful tree that is very vigorous and green. […] As the only dispensers of shade and coolness, calm and reason, trees are absolutely necessary in the new conception that men have of cities. »