| 'Travel sketchbook': sketch your memories!
Introductory workshop to drawing and to urban sketching outdoors (Antibes, French Riviera): learn how to draw with spontaneity in beautiful landscapes! Come and  draw the picturesque landscape of the French Riviera!
The 'travel sketchbook' workshop is a mix of urban and natural landscape sketching. It takes place in picturesque sites on the French Riviera!
I also organise half-days 'urban sketching' classes or daily workshops of 'landscape drawing' immersed in nature such as the peaceful islands of Cannes (Iles de Lerins). These may be organised for a group in English or Italian on demand.
«Creating a travel diary illustrated with freehand sketching is a wonderful memory of your travel experiences! This is also a great way to meet new people, whether you're travelling alone or with your family!"»
| A travel sketchbook workshop in Antibes?
| What is a travel sketch book?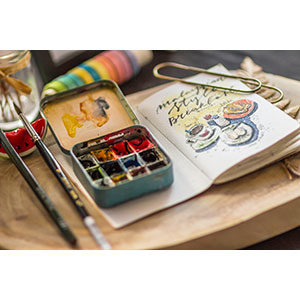 Keeping a travel diary as a sketch book is a great way to keep track of your trip through drawing, painting, and writing! The act of sketching imprints your experience such as where you went, who you met, what you did, etc.
The travel sketch allows you to experiment with the practice of drawing, to note your ideas, to give free rein to your inventiveness!
There is nothing like taking out a sketchbook to draw the atmosphere of a place, note ones feelings and impressions.
Your sketching skills will become excellent if you draw continuously but above all, the sketchbook is a personal creative process to learn how to create freely!
|  What about learning sketching during your holidays?
What would happen if you would put your worries aside, grabbed a sketchbook and pencil, and started telling your journey?
Drawing while traveling is also a wonderful way to practice mindfulness, that is, to be in the moment! By focusing on sketching activity, the mind stays in the present and does not replay the past or anxiously focus on the future.
It is a unique moment of calm, freedom and letting go! Taking time for yourself to draw in a soothing landscape contributes to physical and mental well-being…
| Learn to progress in drawing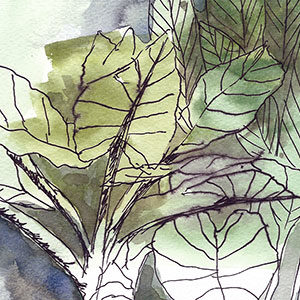 The intention of a sketchbook is to make sketches full of life, to observe and capture an atmosphere with your own gaze and sensitivity!
You will learn step by step the fundamentals of drawing:
Framing, composing and handling space to describe a place,
Simplify, focusing on the outline,
Experiment with color to describe an atmosphere.
But it will also be an opportunity to let go with your demand for a result, to accept to make mistakes, to learn, to make spontaneous and joyfully imperfect sketches to progress with a light mind!
Means of expression: gray pencil line drawing, colored pencils, ink, watercolor, free expression and writing. Each day will be an opportunity for one or more step-by-step exercises.
Excerpt from Marcel Proust:
« The real journey of discovery is not to look for new landscapes but to have new eyes. »