|' Garden sketching': initiation to plein air sketching
Introductory workshop to landscape sketching on location. Draw in the heart of nature in idyllic places of the Mediterranean (Cote d'Azur / French Riviera). A sketching day to inspire your travel sketchbook! Come and enjoy a carefree day punctuated by freehand sketching exercises!
| An introduction to drawing in the heart of nature!
«Experience the pleasure of sketching in nature! It is a form of meditation that stimulates creativity and that nurtures well-being! Nature soothes our body and mind while engaging our five senses.»
=> Outdoor sketching on the Lérins Islands…
=> Landscape sketching in Menton's exceptional gardens…
Are you looking for a holiday activity on the French Riviera?
If you are planning a holiday on the French Riviera, enjoy a quick sketching initiation in one of the most beautiful natural sites! I invite you to discover with a different eye and to illustrate the Lérins Islands. These preserved islands in the heart of a protected natural heritage, are true jewels of the Mediterranean!
I also invite you to discover exceptional gardens! Practice garden sketching and enjoy some introduction to the art of garden design!
| Plein air sketching in nature
Reconnect with nature!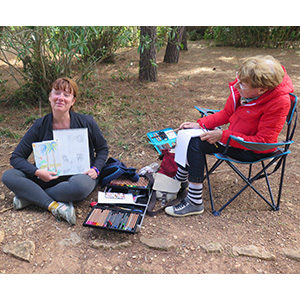 Drawing or plein air sketching in nature allows a time for oneself, to recharge batteries and to reconnect with nature.
Away from the demands of the urban environment and our tumultuous daily life, the plein air sketch offers a time of self-calming.

Creativity nourishes our relationship with nature and this timeless space eliminates stress. It also develops concentration and improves visual memory.
This is a workshop to create freely and spontaneously. You will skillfully sharpen your eye to see and understand your environment.
The act of sketching imprints the memory of an experience imbued with great tranquility and harmony with nature. It is a way to relax, meditate an lift ones spirit. This is also a simple and accessible way to enjoy a walk, while taking the time to look around and experience the landscape.
This is an opportunity to explore the surrounding landscapes while taking breaks to draw or to sketch.
This introductory workshop to quick sketching techniques, allows you to experience the spontaneity of the moment! Mixed techniques of observational drawing, composition will punctuate the day.
Techniques: line drawing, colored pencil or watercolor… in a spirit of free expression.
Introductory workshop to plein air sketching in nature,
Introduction to some basic mixed techniques of drawing.
Excerpt from a book by Jacques Prévert:
A pen or a pencil running on the paper describes the landscape and the landscape pays attention to it because the traveler pleases it. And the landscape listens to the language that describes it trait by trait (…)