| Watercolour basics: for plein air sketching!
Introductory Workshop to the basics of outdoor watercolour: How to start?
Watercolour is an acrobat act in which everything has its importance: paper, brushes, washes, water dosing …! But when you practice plein air painting, it's about being inventive!
|Do you want to get into 'plein air' watercolour?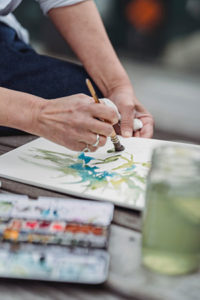 Are you a beginner?
Watercolour's transparency and luminous colors are seducing but its use requires some tips!
Come and learn some basic techniques to start watercolour sketching outdoors with pleasure and spontaneously! You will quickly become familiar with essential notions to practice watercolour with simplicity.
– Want to get some fresh air? Watercolour is one of the techniques that adapts best to nomadism!  Sign up for a nomadic sketching workshop!
Vincent Van Gogh would say:
"Making sketches is like planting seeds to grow paintings."